Since the beginning of the summer term 2020 the format of your student ID has changed. The HHU Card now works as your combined student ID, mensa card, library card and public transportation ticket.
Students receive their university username (Uni-Kennung) and initial password together with their HHU Card via mail. Upon receiving these information, you should first activate your university username and afterwards your HHU Card.
Guide to activate your HHU Card
working staff receives its university username and initial password at the respective place of employment. University staff will not receive a HHU Card.
If you have been enroled at the university once before, your former university username will be still vaild for your studies.
Your certificate of enrolment, BAföG certificate and overview of your academic performance can be accessed, downloaded and printed out via the student portal.
Has your HHU Card not arrived yet? Do you experience any problems during the activation process? Up-to-date information: FAQ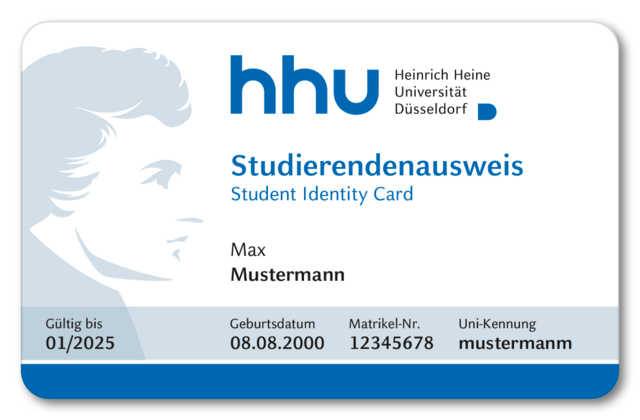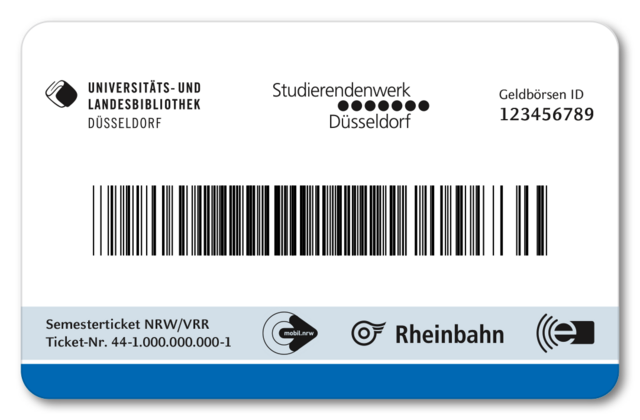 The new multifunctional chip card offers the following functions:
The HHU Card is your new student ID.
You can use your HHU Card to pay contactless at all cafeterias and canteens that belong to the Studierendenwerk (student union) Düsseldorf. Your card serves as your digital wallet.
With the card you can borrow media and pay library fees by using the barcode.
The HHU Card serves as your digital public transportation ticket within the scope of the VRR and NRW.
You can use your HHU Card to identify yourself as eligible to vote.