Relinquish university place
If you have received an admission for a course of study, and would like to irrevocably withdraw from it, please do so as soon as possible. The place can then be passed on to other applicants. Please note that this action can not be undone.
Relinquish university place after having received admission:
Please log in to the application portal with your access data. Click the Relinquish university place button on the relevant application:
After confirming with Yes, the process is completed:
If the Relinquish university place button is not available, please write an email as described in the section "I do not have an account for the HHU application portal".
Please write an email to:

Subject:
Subject - Applicant-ID (BID)
(e.g.: Medicine - B000000012345)
Mailtext:
I irrevocably relinquish the university place.
First name Last name

You will find your Applicant-ID (BID) in the top right-hand corner of your admission letter from hochschulstart.de: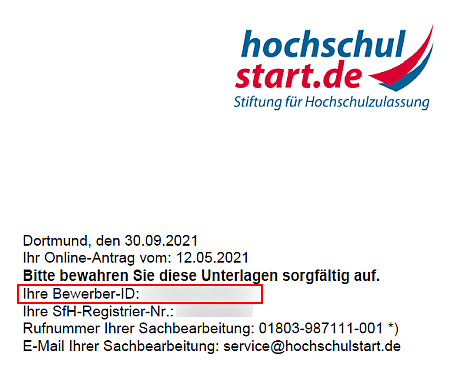 If you do not have an Applicant-ID (BID), please enter your applicant number instead.
Thank you very much for your assistance.